'This British group have released a most enticing calling card, advertising the skills of individual musicians and the liveliness and variety of Britain's composing scene' ★★★★ The Times
'Hermes are quite an act, boldly entertaining' ★★★★★ The Scotsman
'distinctive, witty, arresting songs (…) An imaginative first disc that mirrors our current musical landscape' The Observer
HERE WE ARE out now on Delphian Records: The 10 best contemporary music albums of 2020 – The Guardian, Presto Classical Recordings of the Year Winners 2020, Gramophone Editor's Choice, Presto Classical Editor's Choice , Apple Music 10 Classical Albums of the Month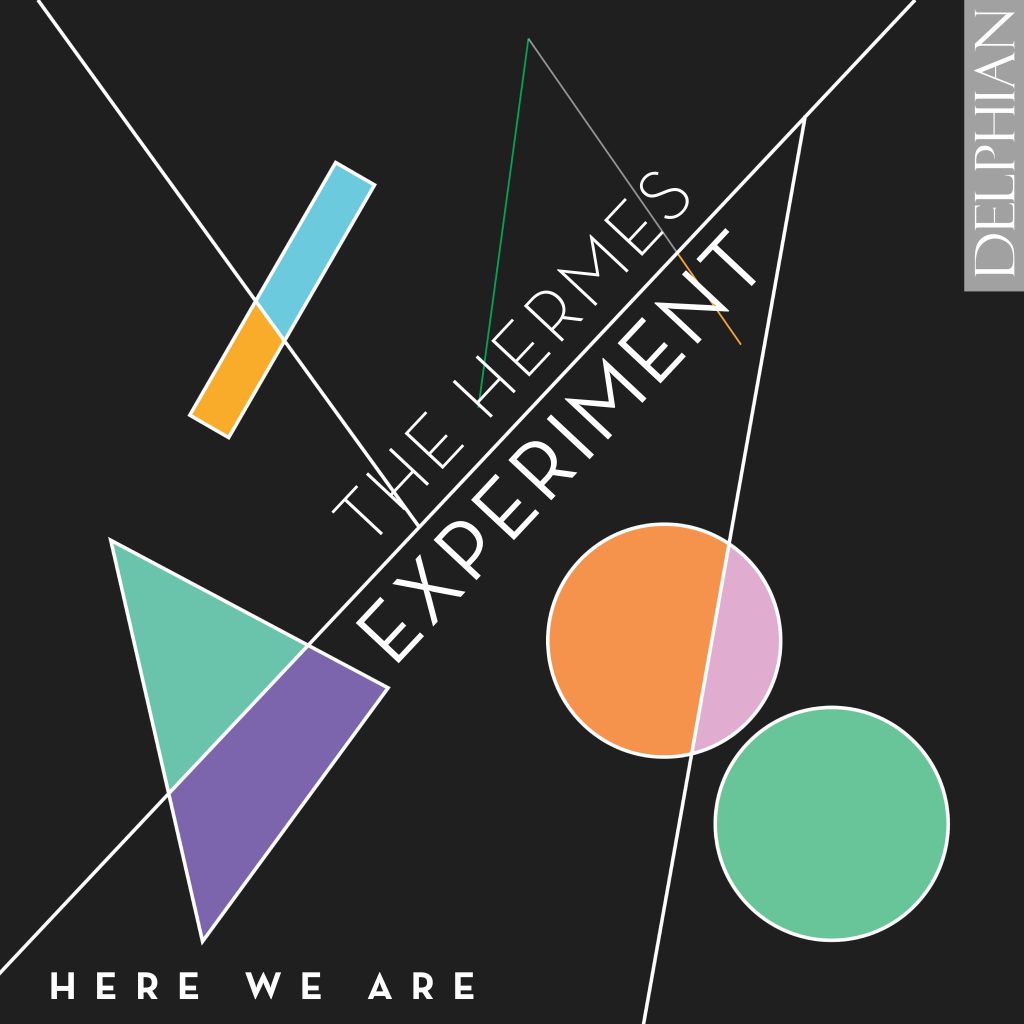 Winners of the Royal Over-Seas League Mixed Ensemble Competition 2019, Tunnell Trust Awards 2017, Nonclassical's Battle of the Bands 2014, Making Music Selected Artists 2019/20 and Park Lane Group Young Artists 2015/16 , The Hermes Experiment is a contemporary quartet made up of harp, clarinet, voice and double bass. Capitalising on their deliberately idiosyncratic combination of instruments, the ensemble regularly commissions new works, as well as creating their own innovative arrangements and venturing into live free improvisation. The ensemble has commissioned over 50 composers at various stages of their careers. They were shortlisted in the Royal Philharmonic Society Awards 2019 in the Young Artists Category and their debut album HERE WE ARE is out now on Delphian Records. Their second album SONG will be released in October 2021 on Delphian Records.
Recent highlights include performances at Wigmore Hall, Oxford Lieder Festival, Leeds Lieder Festival, BBC Radio 3 Open Ear at LSO St Luke's, Tallinn Music Week, St Petersburg's Sound Ways Festival, Southbank Centre, Kings Place, Spitalfields Festival and the RPS Awards. The Hermes Experiment were one of the showcase artists the Classical NEXT Conference 2019. In January 2019, they celebrated their fifth birthday with a concert supported by Arts Council England and RVW Trust, and recorded for BBC Radio 3.
The ensemble is dedicated to the value of contemporary music in education and community contexts. In 2021, they ran a Virtual Composition Project, supported by Arts Council England. They were ensemble in residence for the Young Music Makers of Dyfed 2018-19, and as part of their fifth birthday project they ran composition workshops in state schools in and around London. They regularly work with composition students from Trinity Laban, The Royal Academy of Music and The Royal College of Music. In 2014-15, they took part in Wigmore Hall Learning's schemes.
The ensemble also strives to create a platform for cross-disciplinary collaboration. In June 2015, they created a 'musical exhibition' with photographer Thurstan Redding, and in September 2016 during an Aldeburgh Music Residency, they developed a new interpretation of Shakespeare's The Winter's Tale. They also worked with poet Ali Lewis in 2016 & 2019, devising new pieces with him.
The quartet has received funding from Arts Council England, Aldeburgh Music, the RVW Trust, Hinrichsen Foundation, Britten-Pears Foundation, Future of Russia Foundation, Oleg Prokofiev Trust, Nicholas Boas Charitable Trust, PRS for Music Foundation and Help Musicians UK.
The Hermes Experiment repertoire list is available here.
"The performance was meticulously nuanced, witty and chic." ★★★★ The Times
"This clever mix of instruments is more versatile than you might first think." ★★★★ The Observer
"The combination of harp, clarinet, voice and double bass is not one you hear every day, but in the right hands it works brilliantly. The Hermes Experiment who sport this line-up have in a short few years commissioned prodigiously for it, opening a whole new expressive world" Evening Standard
"The Hermes Experiment last night were barmy but brilliant" Classical Music Magazine
"odd but great" The Wire
"evocative sounds produced by this talented ensemble" Evening Standard
"The virtuosic skill of each member of the group was on display from the start (…) witty and engaging performance, leaving the listener constantly wondering what was coming next" London Jazz News
"It was an enormous pleasure to write for The Hermes Experiment, and to work with them: they are four immensely talented young musicians with bags of enthusiasm and energy, and an impressive commitment to the material they perform. I think they have a very bright future." Giles Swayne